Office Phone: (814) 863-0738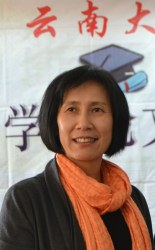 Education:
BA, Yunnan University, 1986
MLIS, University of Hawai'i, 1995
PhD, Yunnan University, 2015
PROFESSIONAL AFFILIATIONS:
American Library Association
Council on East Asian Libraries
Association for Asian Studies
OCLC CJK Users Group
Chinese American Librarians Association
Sources in Chinese History: Diverse Perspectives from 1644 to the Present. Upper Saddle River, NJ: Prentice Hall, 2009. (Co-edited with David Atwill)
"E-journals from China: Technical and Collection Issues," The Journal of Academic Librarianship 31(6), 2005.
"Area Studies Librarians and International Book Fairs: The Hong Kong Book Fair Experience," Library Collections, Acquisitions, and Technical Services 27(1), 2003. (Co-authored with David Hickey)