Thanks to the generosity of Penn State alumnus Ernie Janssen, the Janssen Family Prize in Asian Studies is awarded each Spring to the top graduate in each of our four majors: Asian Studies, Chinese, Japanese, and Korean. Awardees receive a medal to wear at graduation and a prize of $500.
Learn More About Ernie Janssen
Ernie graduated from the College of the Liberal Arts in 1965 as a History major. He spent six years as an officer in the US Navy, including one year in Vietnam. During his career, Ernie worked as a fuel broker for 31 years. 18 of those years were spent as junior owner of the Bunkerfuels Corporation. After that, he spent 11 years as a co-owner of Kristensons Petroleum Inc. Both companies were international leaders in the field. 
Ernie is an active alum. He was a member of the College of the Liberal Arts Alumni Society Board for eleven years, and spent two as President! Currently, he's a member of the University-wide Global Advisory Council, and has been for five years.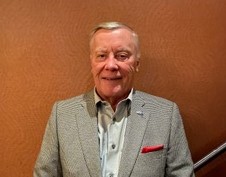 Ernie is a major supporter of the Department of Asian Studies, and we are grateful for his continued generosity!
Asian Studies: Harrison Brennan
Chinese: Nora Van Horn
Japanese: Lia O'Leary
Korean: Rachel Bodnar
Asian Studies: Alexandra Elkins
Chinese: Rayna Marshall
Japanese: Minkyung Kan
Asian Studies: Tomas Aguon
Chinese: Aimee Pizarchik
Japanese: Kyra Scheuren
Asian Studies: Cullen Edwards
Chinese: Matthew Tracey
Japanese: Yingjiao (Jennie) Wang
Asian Studies: Benjamin Black. Benjamin Black also received the Center for Global Studies Thesis Prize for his thesis, "Incidents in the South China Sea: Exploring the Chinese Perspective of the Disputes." He also received Honorable Mention in the 2018 Paterno Fellows Best Thesis Awards."
Chinese: Sarah Bastian. Sarah Bastian also received the Center for Global Studies Thesis Prize for her thesis "'Let the World to Hear our Voice': Investment in Spoken English for English Majors in China."
Japanese: Richard Gardner
Asian Studies: Eben Eleazer
Chinese: Bolanie Ajibola
Japanese: Gena Aiello
Asian Studies: Kayla de Stefano
Chinese: Elyse Mark
Japanese: Yi Yu Kwai
Asian Studies: Jason Klanderman
Chinese: Charles Higgs
Japanese: Ashley Schoonover
Other Awards: Ashlyn McKee – awarded the Center for Global Studies Thesis Prize for her thesis "Taiwan and the Catalysts of National Identity Formation."